Discover more from ACRP's Substack
Ashtabula County Republican Party Substack
Over 1,000 subscribers
Last Call For The 2023 Oktoberfest
Thank You To Everyone That Came Out To The Shield A Badge With Prayer Today. We have included some pictures in this newsletter.
If You Haven't Purchased Tickets or RSVP'd but plan on attending tomorrow's ACRP Octoberfest please purchase tickets now or send your RSVP to chairman@ashtabulagop.com . This will help the ACRP volunteers prepare how much food and supplies will be needed for the event.
THANK YOU AND SEE YOU TOMORROW AT THE 2023 OKTOBERFEST!!
Doors open at 12:30 pm, event starts at 1:00 pm.
If you purchased tickets or RSVP'd, your name will be on the ticket list at the door when you check in for the event.
Details about the Oktoberfest Click Here
Purchase Tickets for the Oktoberfest Click Here
Send your RSVP for the Oktoberfest email Chairman@ashtabulagop.com
We also want to thank everyone who contacted us and said they couldn't make it and has sent in a donation to help with the event. Donate Here
Directions to the Oktoberfest Click Here
---
THANK YOU TO EVERYONE THAT ATTENDED TODAY'S PRAYER RALLY.
The 9th Annual Shield a Badge with Prayer took place in Jefferson today led by Judge Harold Specht. Guest speaker Appeals Court Judge Tobert gave remarks and spoke of St. Michael, the Patron Saint of Police, as a police officer's job is to protect the public from activities incited by the devil. Pastors Scott Ardary, Curtis Cecil, and Sean Hampton offered prayers of thanks and protection over our first responders. Always a great event!
Ashtabula County Sheriff Bill Niemi and Mike Loychik State Representative 65th District (above photo)
See more pictures here…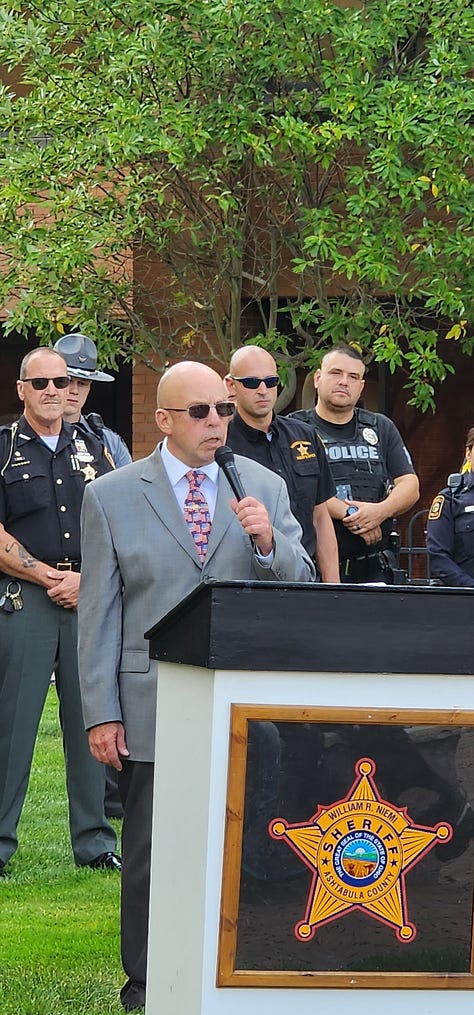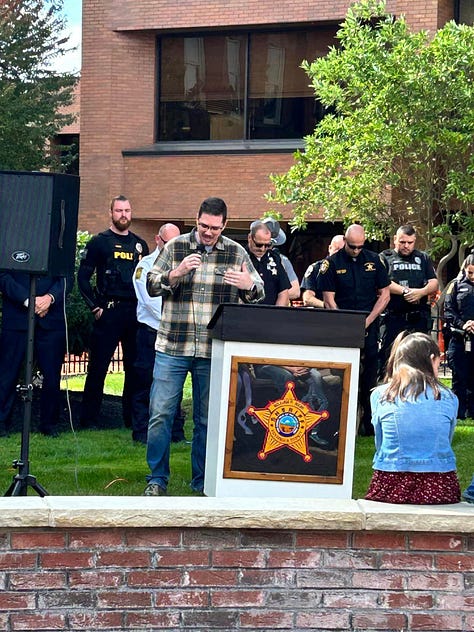 Thank you Ashtabula County Treasurer Angie Maki Cliff and Ashtabula County Auditor for the pictures from today's event